Liên hệ ngay!
Công Ty Cổ Phần Khoa Học Công Nghệ Petech
146 Thành Thái, P.12 Quận 10, Tp.HCM, VN
Hotline: +84 283 862 3668
info@petechcorp.com

Introduce
Product
Biopact – Medical Wastewater Treatment system from 1-6,3/day
Medical wastewater is one of the most profound concerns and concerns for environmental and social managers, because they can pollute the environment and cause serious harm to human life. Research and find suitable technology solutions to effectively treat hospital waste water, ensuring the standards before allowing waste into the environment has been the domestic and foreign environmental concerns.

Currently, countries around the world have applied various technological solutions to effectively and safely treat waste water disease, on which Petech Science-Technology Company produced the production line. BioPactTM (Biological Compact Modules), the latest product from Petech Corp., belongs to the 5th generation. Designed and manufactured specifically for medical wastewater treatment of small health facilities, with The wastewater volume is from 1 m3 to 6 m3 / day. Especially suitable for the Commune Health Center, Dental Clinic and Treatment, Cosmetic surgery facility and nursing homes etc ....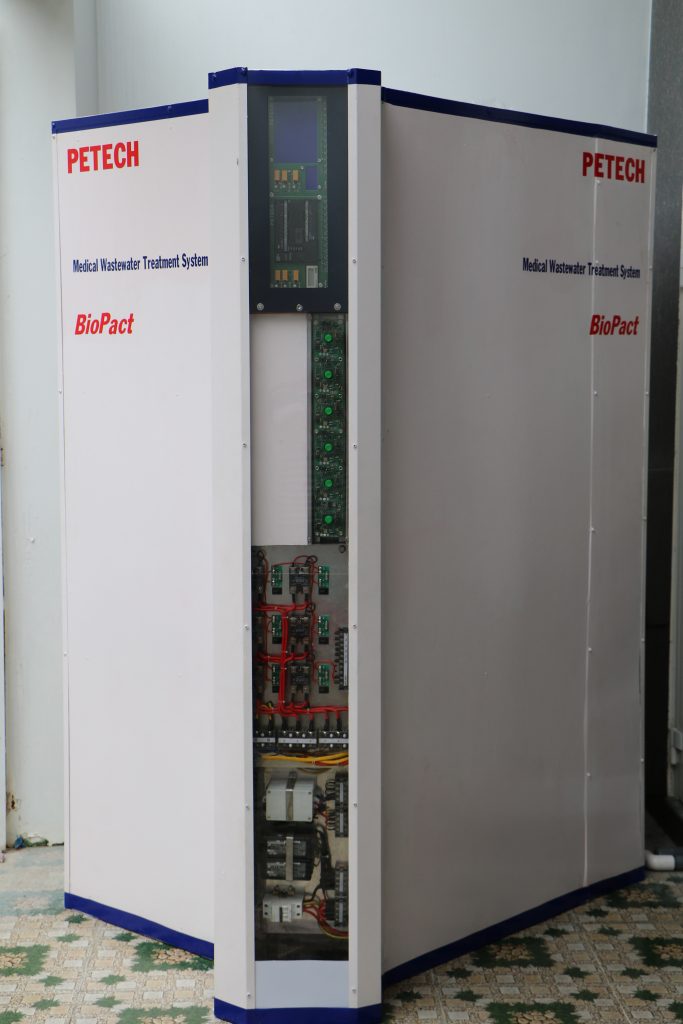 BioPactTM is not only a compact design, it takes up less space (only about 1.5 m2 / system), but the installation and commissioning time is extremely fast (from 60-180 minutes / This is the essence of Petech Corp., the result of application of BioFast-AAO technology, to eliminate ammonium (NH4) so ​​that wastewater meets A standard, QCVN 28: 2010 / BTNMT. This is a specially designed waste disposal unit that can be easily converted or upgraded according to the needs of the hospital. The system has expanded functions such as ultra-fast water treatment and efficient degradation of impurities. BioPactTM is managed and operated automatically, thus reducing staffing and routine care.

For the first time, Biopact is available in Vietnam, with an initial cost of only 199 million VND for a wastewater treatment capacity of 1 m3 / day, 3 year free warranty (capacity may vary according to demand bridge of the unit used). Petech Corp., believe and hope to bring to the environmental industry in general and the medical waste water industry in particular a new height, on par with the world power.

Currently, BioPactTM has been applied and installed in some units: An Thoi-Phu Quoc Infirmary, 1200 installed systems for over 1000 train cars and more than 100 medical systems in 30 provinces. : Hanoi, Kien Giang, Ho Chi Minh City, Vinh Long, Can Tho, etc. to treat waste water before discharging into the environment.
Our
Projects