Liên hệ ngay!
Công Ty Cổ Phần Khoa Học Công Nghệ Petech
146 Thành Thái, P.12 Quận 10, Tp.HCM, VN
Hotline: +84 283 862 3668
info@petechcorp.com

Introduce
Product
Vietnam Market Business Hub (VBH)
VBH is a one-stop-shop for all foreign companies, from established businesses to those who are considering trading inVietnam for the first time. VBH is a full-package service for you with only a affordable monthly fee.Having VBH membership, Businesses will be able to tap into the expertise of multi-language speaking representatives, Vietnamese market trade advisers, legal advisers, translators, event managers, technicians etc.
What does a VBH membership include?
A membership can include all of the benefits below:
Having your own local representatives (Fluent in English and German) to take charge of local sales and customer relations.
Import documentation support, legal advisers, market information and valuable contacts.
Flight/Hotel/Restaurant bookings support.
Airport transportation.
Vietnam Visa application support
Add-on services:
 Language service and Document translation.
Warehouse space.
Organizing events, seminars, or participate in product trade fairs/ exhibitions in Vietnam.
Multi-language speaking secretaries available for members when presence in Vietnam for business visits.
Technicians and Maintenance & Repair Service are available for firms in the environmental management and renewable energy industry.
Luxury cars/ Limousine service
What is the monthly membership fee? US$500/month.
What is VBH commitment to our members?
We do not take commissions from being able to sell products for members. So please rest assure there is no conflict of interests or favors when we are representing members from the same industry.
To register: Click on the photo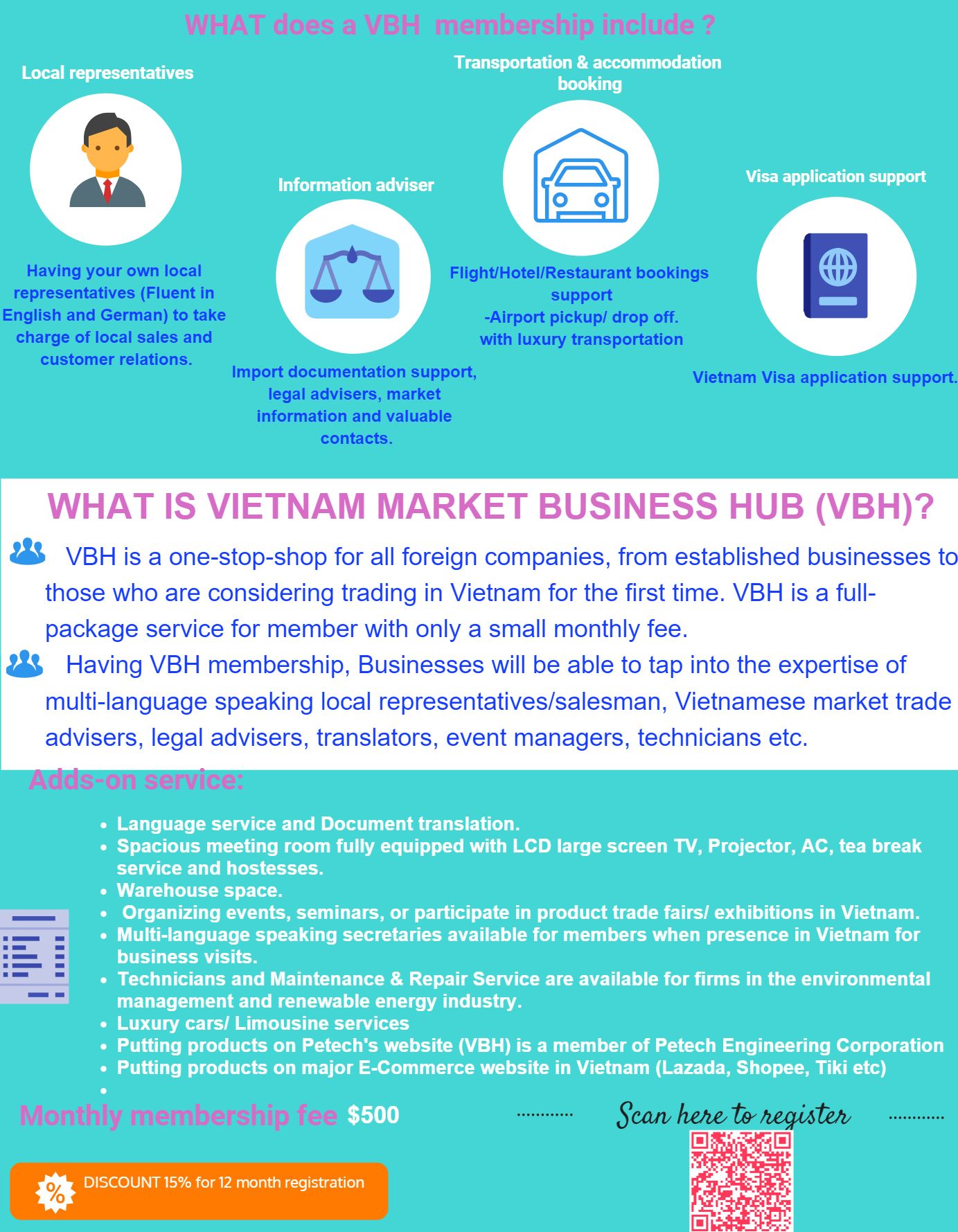 Our
Projects